Céad Míle Fáilte to our website.
Our mission is to promote and further the craft of beekeeping across the Connemara region through the conservation of the native Irish dark bee: Apis Millifera Mellifera.
We endeavour to achieve this through the following main objectives:-

To promote the interests of the beekeeping fraternity for the mutual benefit of all;

To promote the conservation of the native dark bee, apis mellifera mellifera;

Native Irish Honey Bee Society

Promoting and advancing the science of Apiculture;

Stimulating and assisting in the establishment and maintenance of educational and training in all aspects of apiculture;

To promote the preservation of bees in the environment and to educate and encourage members of the Public to be consciously aware of the benefits of having a sound and healthy bee population in both urban and rural areas;

To hold regular meetings, Field Days and Field Trips for its members to educate, inform and stimulate discussions on issues of interest and importance to the practice and science of Apiculture;

To promote intellectual and informative debate within the apicultural sector of Ireland by the organisation of Conferences, Seminars and Workshops for the wider beekeeping fraternity and general public.
Apiary Visit – 27 May 2017
While you know that monthly meetings are suspended between April and October, we plan to organise a visit to either Letterfrack or Maam Apiary the last Saturday of May – Not the Bank Holiday W/End. That date is, obviously, weather (and bees) permitting.
So, you have plenty of time to organise appropriate clothing. Everyone MUST wear a bee suit, wellies and gloves or a bee jacket with veil, long trousers, wellies and gloves.
We will be in touch again before then with more information.
Summer Workshop Outing
18 June 2017
John Summerville (Master Beekeeper) will host members of the CBC June 18 at his apiary workshop in Tullamore, Co. Offaly. Learning and enjoyment combined – to be sure!
Details about travel arrangements and cost etc. will be posted in due course.
New Apiary
CBC will shortly open a new Apiary in the South Connemara Region.This will bring the number of apiaries to 3 including Letterfrack and the Maam Valley. Final preparation are in place regarding insurance, equipment and readying over-wintered hives to transport to the new location. Pictures and update within the next month or so.
March 2017 Lecture Report
'On The Spot Queen Rearing or Notching' by Dara Scott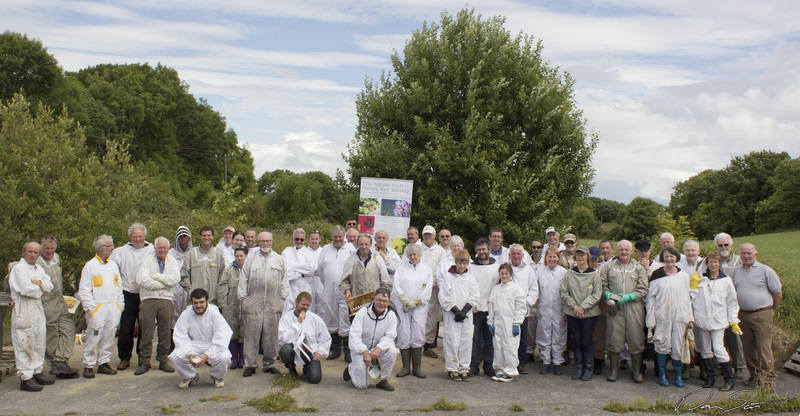 Come see us on facebook don't forget to like us.
We hope you have enjoyed your visit to our site. Please visit again at regular intervals to look at the new features and content that we are putting together.
All images © Cumann Beachairí Chonamara