Nuacht
Now we know, Irish Honey is among the world's healthiest!

Cumann Beachairí Chonamara were delighted to be awarded €1,000 by the SSE Páirc Gaoithe Community Fund 2018, towards our Community Education Programme. Two of our representatives attended the presentation on the 15th of August in Oughterard Community Centre to accept the cheque on our behalf. We are most grateful for this. Míle buíochas!

Lock up your Bees?

Sean Devaney of Galway County Council emailed our group regarding Treatment of Invasive Plant Species along the N59. "We are about to undertake the 3rd year of treatment of Invasive Plants along the N59 in County Galway. The treatment is planned for next week (w/c 20/08/2018) but it will likely be the Wednesday or Thursday before it starts."

We are pleased to announce that we now have Nucs from our Association apiaries for sale for the special price of €180. These Nucs contain young queens bred in Connemara from prime quality Native Black Bees (Apis Mellifera Mellifera). (Please note that €180 is for the bees only. You can choose between transferring the bees and brood into your own hive or purchasing the nuc box for an additional €20.) For enquiries, you may contact me, Ken Figgis, by telephone at 095 41092.

An Beachaire now available online

Dermot O Flaherty the manager of An Beachaire has announced that all current 2018 issues of An Beachaire magazine are now also available in digital format on FIBKA's new website: irishbeekeeping.ie

If members register on the new website they will be able to read the January, February, March, April, and May issues. All other magazines for the rest of 2018 will be made available online in this manner for registered members

Our Monthly Lecture for Members took place on Sunday 8th April, at 2.00pm in the Boat Inn, Oughterard. Helen Mooney from Ballina BKA, who has studied bee genetics and diseases, gave an excellent Lecture and Demonstration on how to check for Nosema in your bees using the microscope. We had the opportunity of preparing slides from a sample of dead bees and then checking these for Nosema. Helen was focusing on Nosema in particular because of its prevalence in our bees this year. She advised on the necessary procedures to cut down on its spread in our apiaries. Click here to view:
2018 Lecture Series
February 4th 2pm

(Please note the change of date on account of a clash with the NIHBS Conference, see poster below.)

We will have a 1 hour Committee meeting at 1pm followed by a Lecture in Boat Inn, Oughterard at 2pm.

Topic of Lecture - How to construct Hornet Traps.

These are the materials each person should bring:

1. Two 2 lt Plastic bottles

2. good scissors

3. steel mesh (varroa type)

4 steel cutters

5 marker

6 Steel wire

7 String

Na Beacha - Airteagal Paddy Ó Fiannachta

Tá bliain eile curtha tharainn againn, an tríú bliain fliuch i ndiaidh a chéile, aimsir nach raibh feiliúnach do dhaoine, d'ainmhí ná go na beacha. Níor tháinig aon tseachtain tirim as a chéile ó dheireadh Bealtaine ach mar sin fhéin rinne na beacha a ndícheall agus bhí toradh maith go leor ar a gcuid oibre agus tuairim is 30 punt meala i ngach coirceog. An scéala is fearr faoi na beacha i mbliana, dár liomsa, ná go bhfuil an bheach dúchasach, Apis Mellifera Mellifeara, ag leathnú amach ar fud Chonamara ar fad agus i mbliana iad tagtha chomh fada le Muighinis i gCarna, Leitir Móir, An Trá Bháin agus Baile Chonaola agus tá scéalta maithe ag teacht ar ais ó na beachairí a bhfuil siad acu. Taispeánann sé seo dúinn gur fiú go mór an phóir seo a choinneal ag imeacht agus is fiú go mór an t-iarracht a dhéanamh iad a scaipe ar fud na tíre ar fad. Tá an-mholadh á fháil ag an mhil freisin agus tuairiscí dearfacha ag teacht ar ais chugainn. Tá an-tóir ar an mhil fraoigh, an ghnáth mhil agus ar an mhil ón eidhneán agus daoine ag rá go bhfuil sé ag déanamh anmhaitheas go deo dhóib ó thaobh sláinte de agus é ag cuidiú le daoine a bhfuil fadhbanna scamhóga, boilg, craicinn agus go leor rudaí eile acu. Tá ard-mholadh ag dul do Choiste Chumann Beachairí Chonamara a raibh bliain an-ghnóthach acu agus an tuafás oibre déanta acu. Is láidre muid nuair a sheasann muid ar fad le chéile agus go mba fada buan an cumann.

Dear All, the sad and sudden death has occurred of Eamonn Tubman (Beekeeper and FIBKA Executive Council Member), Fenaghbeg, Fenagh, Co. Leitrim and formerly of Shivdilla, Gorvagh, Co. Leitrim, Sunday 31st December, 2017 suddenly at his residence. Deeply regretted and sadly missed by his loving wife; Nora, sons; Bill, Eamonn Jnr. and Raymond, daughter; Noreen (Dubai), daughter-in-law; Mary, granddaughter; Olivia, sister; Mary (Derby, England), brothers; Liam (Costa Rica) Mehaul (London), brothers-in-law, sisters-in-law, cousins, nieces, nephews, relatives, neighbours and a large circle of friends. May he rest in peace. Remains reposing at his residence on Tuesday (2nd January, 2018) from 2.00pm and on Wednesday (3rd January) until 3.00pm with removal to arrive at St Mary's Church, Foxfield at 7.00pm. Funeral Mass on Thursday at 12 noon followed by interment to Fenagh New Cemetery. House private from 3.00pm on Wednesday please. Family flowers only please, donations in lieu, if desired, to Diabetes Ireland care of Early's Funeral Directors, Mohill.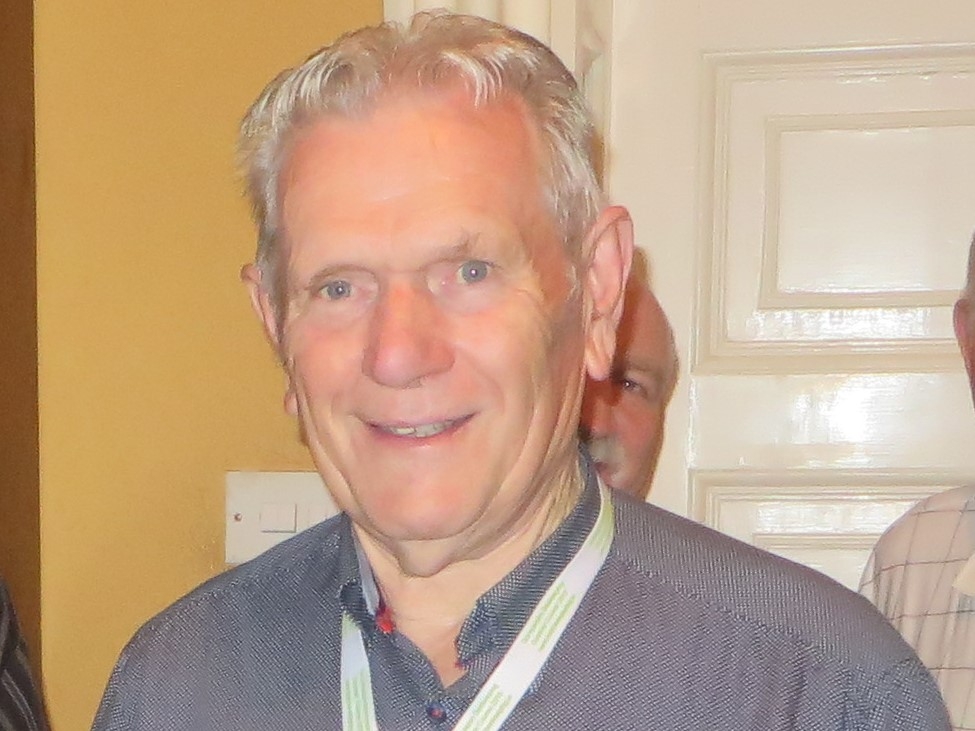 January 14th 2pm

The monthly meeting wasbe held at the Boat Inn, Oughterard at 2pm, Sunday January 14th 2018. The topic on Sunday was Honey sampling, guidelines for beginners, hygiene etc. If you had the good fortune to harvest some honey crop bring some along and we can guide each other on it's taste, viscosity, colour, texture etc. If you have mead, why not bring it along too! Have a designated driver just in case! Rod Teck the new treasurer will be there to meet with new and old members and to collect membership for this year. Beginners welcome too.

Don't forget that pictures and articles of interest are now being sought for our annual newsletter. Could you be kind enough to submit your article over the next couple of weeks? Thank you. ___________________________________________________________________________________________________________
The AGM of Connemara Beekeepers Association took place recently. Many thanks to all the members who attended this important meeting. It was a very interesting meeting where the members gave very productive and useful feedback.

Sunday 8th October We are resuming our meetings in Oughterard, starting this Sunday at 2pm. Please note that the venue will be The Boat Inn on Main street. We hope to discuss the outcome of the FIBKA national congress and how it will affect our members. We also hope to have a question and answer session, hosted by a few of our resident experts! -Hope to see you there. Thanks to Gerard Coyne for giving an interesting lecture on "Keeping our Bees"at the Connemara Green Festival. -It proved an interesting discussion about Native Black Bee conservation and provided ongoing developments in this area.

Federation of Irish Beekeepers' Association: FIBKA's 73rd Congress will take place 26 Aug. (10am - 5pm) in the Horse & Jockey Hotel, Co. Tipperary. CBC will have four voting members from the committee present but other delegates are welcome to attend to gain an insight into the 'national agenda' of beekeeping. If you are interested in attending please link with Dave Canavan on Facebook below.

'Association Nucs' are now available for our members, click on "News" link for further information.

Gormanstown 2017 - See Gallery for selection of Photos curtesy of Paul F. Abbott.

Sunday 9th July · If you wish to obtain a nucleus produced by Connemara Beekeepers Association; they are now available for last year's beginners and other paid-up members of our Association. There are limited supplies so please make contact with us immediately if you wish to be included on the list. Thank you Well done to everyone involved in the setting up of another association apiary in South Connemara. There was a very interesting interview on TG4 the following morning.

Feb/March 2017 Our 2017 beginners course has now taken place. Thanks to all who attended and especially to Gerard Coyne and Ken Figgis for organising these informative sessions. We hope everyone enjoyed it and learned about caring for and protecting our Native Black Bees We are now looking forward to seeing and meeting our new beekeeping members at our spring Apiary visits and monthly lectures. - Dates to be posted soon. Please contact us for information on the next series of Courses

Archives -Links to some of our past lectures Native Irish Honey Bee Society Annual Conference & AGM Date : Saturday, 9th and 10th February 2018 Location:The Athlone Springs Hotel More Info: www.nihbs.org